This shop has been compensated by Collective Bias, Inc. and its advertiser. All opinions are mine alone. #DoMoreWithMission #CollectiveBias
Being healthy year-round is so important to me, and I enjoy sharing the importance of health and wellness with you guys. Now that spring is in full effect here in Georgia, I can finally spend time outdoors and finding activities that get my body in motion. May has been a month of heat, meaning our "spring" feels like summer! Luckily, I turn to my Mission Instant Cooling Gear gear to help me stay cool and do more outdoors to maintain my healthy lifestyle.
Mission Instant Cooling Gear offers an array of products that allow you to enjoy the outdoor heat while comfortably staying cool. I do a lot of my hardcore workouts in the gym. Therefore, I enjoy simple activities out of the gym, such as outdoor yoga. After going on a power walk or a light jog, I like to do a little outdoor yoga. I use yoga as a way to stretch all of the muscles that I have used.
Doing yoga helps eliminate muscle soreness and speeds up muscle recovery. I like to do yoga poses that benefit the full body. I start with a traditional stretch to open up my lower back and stretch the legs. To do this is very simple. You want to start off sitting up straight and slowly reach over to touch your toes. Do not be discouraged if you are unable to touch your toes, eventually, you will be able to do so when you begin stretching constantly.
Another favorite yoga position is called the Cobra. Simply lay flat on your yoga mat with your legs fully extended behind you and the tip of your toes on the floor. Place your hands just below your shoulders and have your elbows on the side of your body. Simply lift your head and chest off your yoga mat and pull your shoulders back. This stretch will help your spine and increase its flexibility. It will also take the tension off your chest and strengthen your shoulders. You will certainly feel refreshed after.
Since yoga/stretching is my cool down, I love wearing my Mission Cooling Performance Hat and Mission Cooling Compact Neck Gaiter. I also keep my Mission Max Cooling Towel on hand. After all, I live in Georgia. When it gets hot, it gets really hot, so having the right gear to make the heat enjoyable is so important.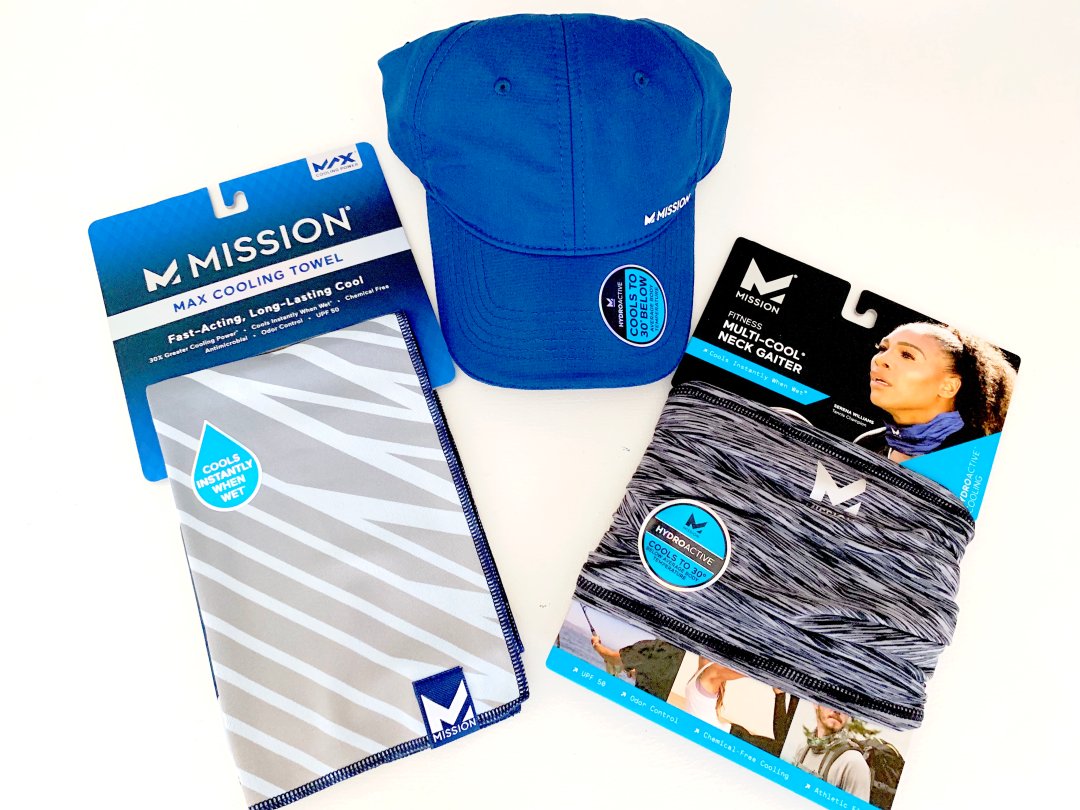 Interested in any of the Mission Cooling products? Hover over this photo to shop directly!

I am sure you are wondering how it's possible for these products to keep you cool even when it is sweltering hot. It is very simple. The unique fabric that Mission uses the technology that enhances the process of evaporation to keep you cool. Once activated by water, the Mission gear instantly cools and will last for hours. The best thing is the products are machine washable and free of chemicals.

Mission Cooling Performance Hat: It is no secret that I love a performance hat. Chances are 80% of the time I am wearing one. Don't judge me! I never thought about a cooling hat until I came across the Mission Cooling Performance Hat. This is a lightweight baseball-style cap, adjustable in the back, chemical free and provides UPF 50 protection from the sun. All you have to do is wet it, wring out the excess water and wave it in the air and it will instantly cool and stays cool for up to 2 hours.
Mission Cooling Compact Neck Gaiter: Neck gaiters are my favorite, and I love them because they can also serve as a headband! Everyone knows I love a multipurpose product. The Mission Cooling Compact Neck Gaiter protects you from the sun with UPF 50 and also blocks approximately 98% of UV rays. If you are running, this will also serve as great protection from dust and debris if you wear this as a face mask. It's made from a super lightweight fabric, and it's super soft breathable material will instantly cool and keep cool for up to 2 hours as well. Be sure to check out the range of colors on their website.
Mission Max Cooling Towel: A must have! The Max Cooling towel now has more than 30% cooling power than the original. Having one of these on hand might make you forget how hot it is outside. Simply wet it, wring it, snap it and there you have it. The Max Cooling Towel will cool 30 degrees below the average body temperature in less than 30 seconds. How neat! I highly encourage you to get a few of these. I like to keep them in my gym bag, an extra one in the car and one for travel. These towels will come in handy and you will wonder why you didn't have one of these before.
Cool more so you can do more! That's the motto. My Mission Instant Cooling Gear has helped me make my outdoor actives more enjoyable in the southern heat. I enjoy doing outdoor yoga when it's about 90 degrees outside and then go for a power walk. Prior to Mission, this would have never happened. I swear by these products and I highly recommend them to everyone.
Mission cares about you having a healthy, active lifestyle, so even when the weather is warm or hot, you can enjoy the heat while staying cool with Mission's Cooling Gear. Visit their site here to also see all of their neat styles and patterns, plus be sure to stock up on your cooling gear right before the summer. You can use Adriana25 to save 25% on your purchase!
Does the heat prevent you from living an active lifestyle? Let me know in the comments!